!
!
!
W
I
N
!

!
!
Gah! So excited to host this awesome giveaway from the lovely folks over at PamperedTot.com - a "mom and pop" online retailer, specializing in providing "the world's finest for your most precious". The owners of PamperedTot are parents to a couple of way cute munchkins themselves and they were extra picky when choosing furniture, bedding, feeding supplies, bath supplies, etc. for their own kids - so they set up a shop to offer the best of the best all in one spot.
Stokke TRIPP TRAPP
When Peter Opsvik started to work on the award-winning TRIPP TRAPP, his aim was for children of all sizes to be able to sit in the natural way at the family table with their elbows at table height. The TRIPP TRAPP can actually grow with your child and holds up to 300 lbs!
A research study from Cornell University even found that the TRIPP TRAPP helps improve preschool children's functioning while sitting.
Pronunciation:

I found out today that "Stokke" is pronounced "stoke-uh" so there you go.
Here's a pic of my chubby cheeked urchin scarfing down sunbutter waffles and blackberries in his TRIPP TRAPP (please focus on my darling munckin and rad high chair and ignore messy table).


Soooo, we bought our TRIPP TRAPP chair when Otto was 9 months old and we did not get the "Baby Set" attachment which makes the chair perfect for baby-babies, so at 9 months Otto was a little wobbly in it at first.

I think if you plan on using this highchair for a baby under 1 year of age the "Baby Set" would be highly suggested otherwise you might want to wait a few more months.
By the time Otto turned 1 he was totally comfy and stable in the TRIPP TRAPP and he loves it! We have two highchairs, an inherited "traditional" chair and then the Stokke, and we totally prefer the Stokke now that Otto is a toddler. He loves it too; especially being able to play with his feet while at the table (sigh) so we always have to make sure to wash his hands AND feet before meals.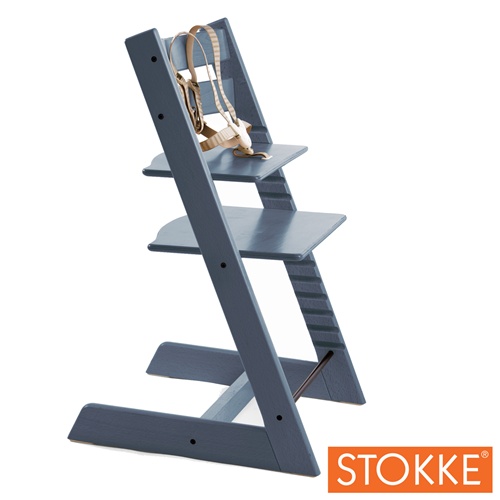 We did purchase a supplemental "Chair Cushion" and although that isn't necessary, it does add a nice amount of cushy comfort so I'd say it's worth investing in a cushion to go along with the chair. As you can see in the pics, we got a very stylish cushion in the style "Tales Green" that fits right into our Torkelson-style mishmash of a kitchen. The cushion wipes clean super-easily and we've also machine washed it several times and it still looks like new.
I've known the owners of PamperedTot for a while now and when it came time to get Otto's high chair I was dreammmming of a TRIPP TRAPP the way that some people dream of an Aston Martin or a date with George Clooney. Well, I did not get mine for free, but it was worth every cent and I did get a discount and free shipping (PamperedTot gives free shipping on all orders over $100 delivered in the US).
PamperedTot will send one lucky winner their own Stokke TRIPP TRAPP classic collection high chair! Please note that this giveaway is available for residents of the US or Canada only who are 18 years of age or older.
Kindly note that before you can do any additional entries, you MUST complete this step:
Visit PamperedTot.com, take a look around, then come back here and comment below on another item that you would love to call your own from their selection of fine baby gear, furniture, bedding, decor, feeding, bath, and toys.
Additional Entries:

- Tweet about this giveaway with a link to this page in your tweet. In your comment below make sure to put a link to your tweet (up to 3 bonus entries per day - 1 per tweet - 30 mins apart or more please)
- Blog about this giveaway and in your comment leave a link to your blog post (4 bonus entries)

Just remember to leave a comment for EACH entry. If you follow us on Facebook since that's worth 2 bonus entries make sure you leave 2 comments for that.
Make sure that I can reach you if you win - via email or Twitter. We will contact the winner on July 2 and they will have 48 hours to claim the prize or we will choose a different winner.
Giveaway ends at 11:59pm Pacific Time on July 5th. We will use Random.org to choose a winner and will verify that the winning entrant has played by the rules so it only makes sense to be honest!
The opinions expressed here are 100% my own.
Many thanks to PamperedTot for providing giveaway prize!

-Lindsey