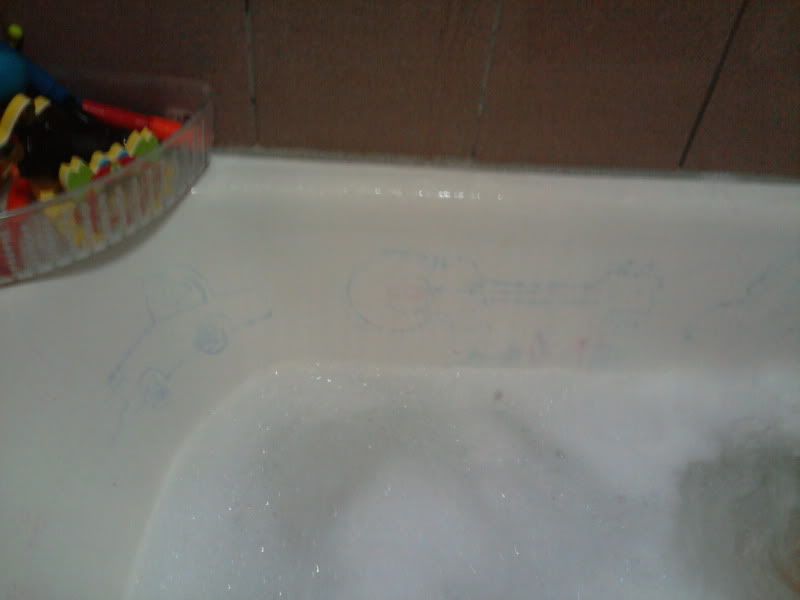 A perfect rating would be 6 rainbow hearts (whatever, it's cute):
Y
Y
Y
Y
Y
Y
Crayola Bathtub Markers
get a lame-o
Y
Y
Y
3 hearts
Why this rating?
Stains the bathtub. Especially the blue. As you can see in the above pic, we're now rocking a semi-permanent guitar and vroom (aka car) on our tub. My 50 year old bath's porcelain may be especially old and porous, but that's no excuse. Note that I have not yet tried to "magic erase" these drawings, and I do have hope, as the Mr.Clean magic eraser has rarely let me down. -1 heart
Drawings run too easily. For example, if you draw a cute little cat with the red marker 2 seconds later it looks like a bleeding messed up dying cat. -1 heart
On top of the above complaints, I don't know if I would buy them again. Therefore -1 heart
NOTE - I'VE CHANGED MY MIND. THE DRAWINGS COME OFF EASILY WITH MR. CLEAN MAGIC ERASER! WE HAVE AND WOULD BUY THEM AGAIN, SO WE'RE UPPING OUR RATING TO
Y
Y
Y
Y
Y
OUT OF 6!
Crayola Bath Paints
get a respectable
Y
Y
Y
Y
Y
5 hearts
Why this rating?
Doesn't stain the bathtub or my kid.
Drawings don't run at all - the paints are super-dense and you can even draw on bath bubbles with them.
I probably will purchase these again. But I'm waiting until Otto is a bit older (maybe I'll try again when he turns 2) because...
If your wee one isn't big and/or strong enough to squeeze the paint out of the containers (which are like mini ketchup and mustard bottles you find at picnics) then you, as the bath moniter, are going to be spending a lot of time and energy squeezing paint and drawing. Not that that's unbearable, but it is tiring, and doesn't really offer much artistic outlet for your small fry. -1 heart