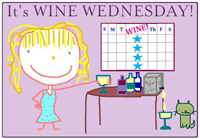 Ever since Alana from
Life on the Mom List
launched Wine Wednesday I've become addicted to wine!
Hey, is there a name for that?
Anyways, this week I am reviewing a wine that *technically* is outside of the Wine Wednesday "under $12" price code. Normally $19 it was on sale for $13 and I got another 10% discount for buying 6 wine bottles. What say you? I pride myself on being a bargain shopper. Ahem!

Robert Mondavi Fume Blanc, The Review:
Gaze upon the beauty. This was my reward for working until midnight last night, which gave me insomnia til 2am, and then waking up at 4:30 this morning to a very sad little man (with the realization that Otto had an ear infection). This was my reward for spending my "day off" at the doctor's office. And this was my reward for then working after he went to bed until 10pm tonight. Boo! Wait, am I complaining? No I AM NOT because look at my reward, mmmmmm...
Word up. After the day I had this is what I felt like doing to that bottle -->
But instead I did this -->
Classy right? That's my second middle name. So here's what I thought...
Above all I just want to say I really like this wine! Not just because it's just what the doctor ordered for Lindsey, but because it's a satisfying, crisp and even zesty wine. It's not too sweet, in fact when you first take a sip (or glug) the flavor is refreshing, dry and minimal, then kind of blossoms in your mouth with a bright zestiness of citrus (more grapefruit than orange) and almost like a hint of Italian Seasonings (I know that sounds crazy, but it has this air of earthy herbs that's very pleasant).
It passes the "I forgot to chill my wine" test, too.
I started my glass with the above pictured cheesy crackers and it paired well but I'd say this wine would really taste amazing with an arugula salad, mozzarella, tomatoes, french bread and black pepper! Oh no, now I'm making myself want foods I don't have around. I then got ready for bed, brushed my teeth, drank some water, and am finishing my glass on its own. It's just as good, if not better, now.
So there you have it! The wino gives it a big thumb up! If you have the opportunity to buy this wine for under $12 like I did I'd say snap up a few bottles! But I may be tempted to pay the $19 every once in a while. This is seriously my new favorite.

Support The Radness...
Life on the Mom List
started this thing and she's keeping it rockin today. Please feel free to join the party, nab the button above, and/or do your own Wine Wednesday post. If you do let me know and I'll link to it here too.
Thanks and let me know what you think! Are you tempted to chug-a-lug this bad boy or at least try it? You totally should be...
♥