It's that time again...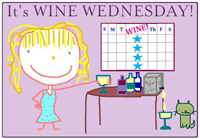 Alana from
Life on the Mom List
launched Wine Wednesday last week with a different "bargain" (under $12) wine reviewed each week. Check out the Linky at the bottom of this post if you wanna join in and/or to check out all the Wine Wednesday reviews.
This week I am reviewing Sweet Pea Apple Wine and I'll just say it, I was a sucker for the packaging (just look at it, LOOK!), the name, the $9 price tag, and the whole "apple wine" novelty factor

:

Photo from
The Felt Mouse
mama and super cute crafting blog (a new find!)

Sweet Pea Apple Wine, The Review:
All of the reasons that sold me on trying this wine in the first place are all of the best things about this wine. It is cuteness in a bottle! I mean, I want the label-girl's dress. I don't know about you but that's a wine bottle first for me.
Now I've had non-grape wines before with mixed impressions. Plum wine is not a favorite (too heavy and syruppy sweet). Sake (aka rice wine) I can enjoy but don't really think of it as a wine, more like half-a-bomb *wink, wink, wanna go get sushi with me?*. Apple wine, or at least Sweet Pea Apple Wine, tastes more like a traditional white wine
than either of these. 
My evening with Sweet Pea.

To enjoy my wine this week I made the Pioneer Woman's "springy pasta", lit some candles, cleared 1/5 of my kitchen table which is covered in crafts and
cookbooks, and poured myself a chilled glass of the Sweet Pea. My first impression was of a smell of sweet vinegar. Errr???
The wine is quite vinegar-y and although it isn't entirely unpleasant, the hint of vinegar doesn't dissipate as you drink. The smell, in fact, is much more off-putting than the wine itself. With each drink I would first smell vinegar and syruppy sweetness, brace myself for a pungent flavor that matched the smell, and then sigh in relief as the actual wine tasted much lighter and more pleasant than the smell promised.

While it was a little too sweet for me and the vinegar business was just odd I do believe that some "nectar lovers" might enjoy trying this novelty wine. The apple and peach flavor is a nice detour from standard wine fare and while a bit sweet, the wine is in no way syruppy or thick. It's quite crisp, almost tart, and paired well with my summery pasta dish. I would suggest serving it chilled and accompanied by a light, salty/peppery meal or snack.

Support The Radness...
Also "wining" this week (I so heart winers!):
Life on the Mom List
Bringing Up Bronwyn (with a Wine Wednesday linky!)
Baby Baby Lemon!
Please feel free to join the party, nab the button above, and/or do your own Wine Wednesday post. If you do let me know and I'll link to it here too. Still trying to figure out this linky business.
I'd also love it if you let me know what you thought of my review. Do you think you'll try the Sweet Pea? Or probably not? What do you think of the label-girl's dress?