In fact, mark your calendar (a great excuse to get tipsy at least 1 day/week for the rest of your life) because: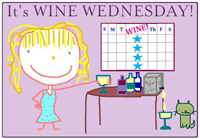 Alana from Life on the Mom List is launching Wine Wednesday where she'll be reviewing a different "bargain" (under $12) wine each week. And everyone is invited to join in! Like here I am joining in this week and here is Eileen from Bringing Up Bronwyn also joining in today.
I was honored (and a little shocked/puzzled by her questionable taste) when Alana asked me to create the artwork for the Wine Wednesday button! I hope I did her proud. I threw a cat and some boxed wine in there to sway her towards liking it, haha.
This week Alana and I are both reviewing Coppola's Bianco Pinot Grigio (my bottle was a 2009):
Before you read my review you should know what kind of "drinker" I am in case we totally have opposite taste. I am mostly a white wine drinker although I do enjoy a nice pinot noir, cabernet sauvignon and beaujolais. I HATE chardonnay and merlot and refuse them, "no, thank you!" I prefer dry, crisp, not-too-sweet, citrus-y whites. But I am not a snobby drinker at ALL. In fact, I am co-founder of the #boxedwinefanclub on Twitter (have you tried Target's wine cubes? they rock!) and the only other red I really like is Franzia's chillable red-in-a-box. I'm tacky and fine with that! Franzia helped get me through college, what can I say!? Also, I like all wine chilled unless it's sake. Then I like it hand over fist *wink*.
Coppola's Bianco Pinot Grigio, The Review:
I popped the cork on this bad boy without hesitation because I tend to love pinot grigio like almost always and tend to love all things Coppola-family-related (including Ms. Sofia, Nicholas Cage movies, and the 90s version of Dracula). I can honestly say I wasn't let down by this light little wine.
This is a great bargain wine that isn't too sweet and has a dry-but-not-too-dry crispness that made it perfect for sipping before, during, and after dinner. It does not taste "like a headache" like some other wines I've had in this price range where you can actually taste the headache you're going to have later. The flavors are more citrus and wood (ok so I'm not a wine person, but does that make sense?) that don't lay heavy in your mouth afterwards. Overall it's a very fresh and not overwhelming experience.
Coppola's Bianco would pair well with fruit, fish, or even chips and salsa. In fact, I enjoyed mine on "taco night" and it went really well with the zesty seasonings, fresh tomatoes, and overall saltiness of that dinner.
My husband who generally does not like white wine tasted it and gave his highest compliment, "that's really good for a white."
Bottom line: I recommend this wine. Buy it!
Please Join In On Wine Wednesday...
Please feel free to join the party, nab this button, and do your own Wine Wednesday post. If you click the button below it'll take you to Alana's blog with her accompanying review of the Bianco.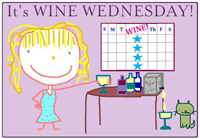 I'd also love it if you let me know what you thought of my first ever wine review - it was incredibly stressful to write! I'm going to have to do something to take the edge off? Who are we kidding, it'll be drinking wine duh.
xo,
Lindsey