Wine Wednesday is back, mutha fockas! Haha, are you excited now? I am! There was a little hiatus due to almost all the mommies who usually do WW being on vacations or otherwise busy over the past few weeks. Thank goodness things are getting back to normalcy!
I'm super excited this week because the wine I'm reviewing is a good one! I tried to mix it up (which is hard as a whites-only drinker), so far I've reviewed a
Fume Blanc
,
Apple Wine
, and
Pinot Grigio
. Today I'm reviewing Firefly Ridge Pinot Gris which falls under the $12 price limit if you catch it on sale like I did (normally $15 my bottle was $8 shazzam!).
Turns out I'm not mixing it up that much. I was curious about the difference between Pinot Grigio (my good ol' standby) and Pinot Gris so I looked it up. Annnnnd they're clone grapes. Pinot Grigio is the Italian version of pretty much the same grape. Pinot Gris is the French version.
Alors, aujord'hui nous buvons du vin francais! Well, from California --> but in French!
The Firefly Ridge Pinot Gris is everything I ever looked for in a wine. I would marry it.
It is light and dry, none too sweet, and has a nice fruity flavor that is zesty enough without being overwhelming. It is one of those wines that is just light enough and just unassuming enough to be dangerous because it's easy to drink these kinds of wines too fast and end up day-drunk with an afternoon hangover. I did NOT. Ahem. But I'm just saying it could easily happen.
The initial taste is very melony with a near-sour topnote (haha, I have no idea if I'm using the term 'topnote' correctly). That near-sourness evolves in your mouth into a citrus/melon/cherry flavor that is pleasant and even refreshing. If I have anything unfriendly to say about this wine it's that as the temperature of my glass changed from "chilled" to "room temp" the sourness increased and it became a bit more sour than I originally thought. Still... yummy.
This wine would pair well with fruit, veggie crudites, cold pasta salads, dessert pastries, and chicken or fish dishes. I made homemade chicken soup today (dudes I'm on staycation - I'm PARTYING!) and the wine held hands with my highly peppery, veggie-ridden soup. I've had 2 cups of each tonight!
Final verdict: If you can find this wine for $8 like I did, snap it up!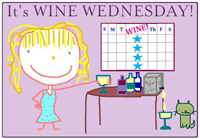 For more Wine Wednesday today check out
Life on the Mom List
(this mama founded WW!) and
Eisley Rae
today for more vino madness! And just let us know if you want to participate in a WW, we'd love it and we'll link to your post too. The more wine the merrier!
xo,
Lindsey